I've started cooking quinoa this year after hearing so much about it being a 'super food'. Its an odd little food, this quinoa, pronounced 'keen wa'. It has a cous cous kind of consistency, and it often mistaken for a wheat but is actually a seed and is part of the spinach family (for this reason, it is gluten free!) Quinoa is filling, packed full of protein and magnesium. It was apparently considered the 'gold of the Inca's' as the protein in it made their warriors extra strong. You can read more about the benefits of quinoa
here
.
It looks like this before cooking-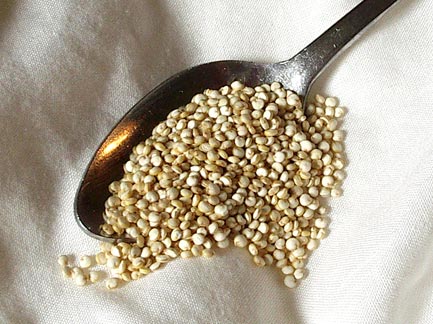 Now apparently cooking quinoa from scratch can be a little gruelling, as it has to be rinsed several times before cooking. I have so far used a few different flavoured quinoa's from the Celebrate Health range. I am not sure that these are gluten free as there is an addition of yeast in the ingredients. I buy these from Coles as I don't seem them very regularly at Safeway. You can also buy quinoa in a packet too and cook it per the cooking instructions though it obviously takes a little longer.
Tonight I used the Lemon and Thyme one and decided its perfect partner would be some fresh prawns from Fish House, my favourite fish shop at St Helena Marketplace. The result was a lovely and light dish where the buttery-ness of the prawns was balanced out by the protein rich quinoa.
Prawns with Lemon and Thyme Quinoa (serves 2)
12 raw brown or black tiger prawns, tails removed
2 tablespoons of unsalted butter (low fat would work)
2 teaspoons of minced garlic
1/4 cup chopped red capsicum
1/4 cup of chopped green capsicum
1/2 a large onion, chopped
1 cup of snowpeas
Very large handful of baby spinach
Salt and pepper to taste
Packet of Celebrate Health Lemon & Thyme Quinoa
Prepare Quinoa to packet instructions. Set aside.
In a frypan, melt butter and add garlic and onion. Saute until onion softens. Add prawns and cook for 3 minutes on each side, or until just cooked (they will turn pink when cooked).
Add the capsicum and snowpeas. Saute for 3 minutes. Add spinach and wait until it wilts. Season with salt and pepper to desired taste. If you prefer a more buttery dish, you may want to add another tablespoon of butter here.
Add the quinoa and stir with a spatula until heated through and combined. Serve in bowls.
Enjoy!